SteamyDates.com is one of those adult dating websites that covers its real intent for selling adult movies, webcam services and additional products for men by putting them on a hookup site. This is how it attracts new customers and fools them into thinking they can get laid by putting the annoying products under their noses.
Authenticity
Is SteamyDates.com authentic? Not really. We have seen these tricks on multiple previous occasions. In fact, they're almost always included into commercial adult movie sites, which use men who are looking for casual sex as a commodity for selling unnecessary products and services. The point is that you can get easily tricked with the webcam service by thinking it's a part of the members' area. If you occasionally randomly click on the links to the sex cams or the additional content you are just getting lured into another type of scam.
Why is SteamyDates.com Yet Another Fake Website for Hookup Dates
There is one key factor you should keep in mind. The subscription rates are in euros. If you're used to calculating the cost in US Dollars make sure you add up about 10% on these rates when you're making a comparison.
Sending  Messages is Possible Only Via Premium Upgrades
And here is the main trick. There is no way you're getting laid without a payment upgrade. The promise of free registration is just the usual trick to register, to search, to get horny, but you're not getting laid until you pay. Actually, the scam is pulling you in, one step at a time, giving you a little and asking you for more. Here is how – first take a look at the promotional screen upgrade and the "promising" benefits.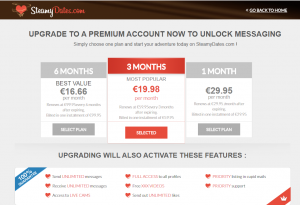 Your Inbox Will Be Flooded With Automated Emails
What happens on SteamyDates.com is the following: you're getting your inbox flooded with fake emails. Do you know how we know that these are fake emails? Let me explain. I uploaded a profile with no profile picture. Just when I tried to send a message to a girl without the profile picture I was asked to upgrade. However, my inbox was keeping up with the messages just like nothing happened. Then, I went back to the members' area. The same girl returned the message, but I couldn't reply as I was again prompted to upgrade. Extensive nose pulling!

SteamyDates.com us a Marketing Tool For Selling Ridiculous Dating Products
The worst problem may be related to the commercial products. If you have visited porn sites (we believe you have) then you probably know what I am talking about. The issue in question is associated to those irrelevant "get laid" guides, advice and tips.  Additionally, we should not forget, beware the cam girls, they are not for dating.

Price Tag
€16.66 per month for the 6-month package
€19.98 per month for the 3-month package
€29.95 per month for the monthly package
Busted or Trusted?
SteamyDates.com is busted in many ways. For once, we have no doubts that you are getting duped by multiple methods. If you want to really get laid, increase your chances to hook up and score in a real way, go for one on the websites from our Legit Dating Sites guide. Or just keep your money for a Mexico vacation.