At first glance, PassionDesire.com seems like a very active site. The first front page contains so many profiles, and so many changes happen and any given moment, that you may think that you've joined a sex dating heaven. It is also populated with profiles of cute girls which seem like they have nothing better to do but wait for sex invitations from new members. At least that's the impression. People say the first impressions count but this is not the case about PassionDesire.com. You should be extremely careful about joining this adult dating site and here is why.
Authenticity
I don't stop being amazed at the methods that this fake website uses to fool people. Most of them are just the same old classic methods in new variants, but some of them include other novelties. In the case of PassionDesire.com, there is nothing special. The main scam is – you guessed it right – about computer generated profiles and about using them to make new users stay as long as possible on the site and spend as much money as they can. PassionDesire.com is associated with a bunch of other hookup sites that work in the same manner. if you expect a plethora of communications on the basis of the first landing page, you will be very disappointed. This is not the service provider that is going to give you what you want.
Why is PassionDesire.com a Part of Huge Casual Sex Scam
It doesn't take a long time to view the casual sex scam of PassionDesire.com for what it is. All you need to do is decide that you want to register and the problems begin. When you start filling out your data, one by one, giving your name, then your email, thinking of a password, the scam is obvious. There comes the moment when you are asked to read the Terms and Conditions and to agree to the way that they're being stated.
Computer-generated Profiles Populate the Site
There is one key sentence you should be aware. When you accept that you agree to the Terms and Conditions, you also agree that you can be communicated by computer-generated profiles. PassionDesire.com creates and fabricates fake women, then uses them with fake photos to create profiles that impersonate real women and, finally fool users into thinking they have a chance to score with one of them. Yes, they do admit that they post the computer-generated profiles, but is this really an argument in favor of justification of this fraudulent practice? That's right. It isn't. Moreover, when you're horny and when you're looking for a date we are not sure that you'll read the site documents in details. Most users don't like bothering with this nuisance altogether.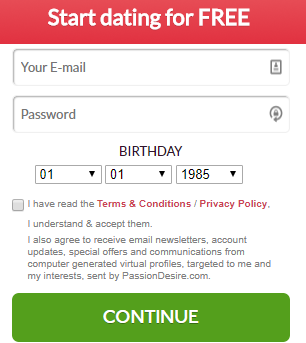 All Members are Paid Members
Additionally, don't hope for free usage. The trick with the free membership is that it's always just to place a trap until you register. when you register it becomes obvious that you can't use anything for free. in the same way, as this is explained in the Terms and Conditions about the virtual profiles, PassionDesire.com explains it in the membership fees. You must take premium memberships in order to use the additional services and features, necessary for you to communicate with other users. No pain, no gain, or better to say, no pay no gain. Not only that you will need to pay the basic subscription, but you agree to carry the costs for any fees coming out with third-party links or with any wrongful charges or non-secure transactions.
PassionDesire.com Operates Under Poor Security
Security is not a small problem. Above all, you should be aware that PassionDesire.com collects your information by means of cookies and other technical mechanisms. Then, they use them for marketing purposes.There are no security checks or additional measures to keep you safe from various fraudsters. In the end, as it turns out, you're joining a non-secured website which is not at all free. It includes computer-generated profiles with fake photos, and you are asked to pay for the membership! This is like you're in a virtual reality with nonexistent people. You're all there by yourself just paying money to the company and hoping to get laid but nothing happens. Be careful, the online dating scam world can be really harsh when the truth comes out.

Price Tag
$29.95 is the cost for a 1-month membership

$59.95 is the cost for a 3-month membership

$119.95 is the cost for a 12-month membership
Busted or Trusted?
We still keep asking the same questions: why and how is PassionDesire.com surviving on the adult dating market for so long? What is the reason that these fake dating sites still exist, regardless of a number of reviews available online, where very experienced users explain what is the trick to them. There are still people that fall for the same deceptive methods. Therefore, PassionDesire.com is not the place to get laid. That is the final verdict and nothing can happen to make us change it.