Our latest task is about reviewing NakedLocals.com, a name which doesn't instill a lot of confidence when you hear it for a first time, especially if you are in the business of giving feedback on online dating scams such as Adult Dating Patrol. There have been so many adjectives places before "Locals" on fake dating sites that I had my hair raised on red alert almost immediately after I saw the page and some of its features – they looked so familiar in their scammy looks. As you might imagine, I was very right, and the scam quickly became obvious.
Naked Locals Authenticity Questioned
Suspicions confirmed – here is yet another site that applies virtual profiles, either as software bots operated directly from the site or from third-party contractors. Can you have a wild guess what is their name? if this is your first review you are reading on Adult Dating Patrol, then the chances to pick the right name may be pretty slim. But, if you have already run through at least a couple of these reviews, chances are that if you had three takes on the correct answer, you would have come to the right one for sure! Well, here we are dealing again with the Online Cupids, and they are right on your face from the registration screen: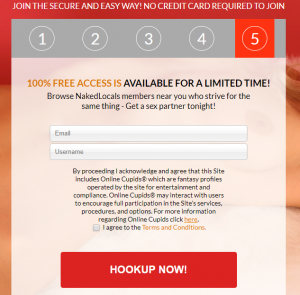 Why is NakedLocals.com a Fake Dating Site

The above pic is a screenshot of the regulations explaining some of the duties you are going to pick up by joining NakedLocals.com. Trust me, you are getting into a mess which does not promise a rosy future for your dating prospects. But it does promise a rosy and brilliant future for the site if all users accept the conditions as they are and fail check on what they sign for:
You do not have a chance for a refund

Your data will be used to create registration on other sites – you will be multiplicated

All extra admin and transactional fees are your responsibility

If you make a mistake in data provision, your membership may be annulled (no, that does not include a refund!)
Online Cupids are these annoying online pesters who usually take the shape of sexy cute and hot women just to be more persuasive and look friendly. Admit it, you wouldn't mind chatting with an open-minded chick who looks hot, ready for sex and on top of everything – she is the one initiating contact! But – they are not real and work for the site in multiple roles:

Monitoring activities and check compliance

Entertainment purposes with no real identity behind it

Engaged with more than one user at the same time

Photos are not real and similarity is a coincidence
You should be also extremely vigilant when you get an email from an Online Cupid because their false identity is difficult to recognize unless you have a sharp eye and read all information in the email in detail. But, you know what it's like – you can get excited about all the buzz for a new sex date and forget to check what is on that generous offer. Here is what that looked like in my inbox – do you notice the small pale notification and the small print beneath the text? Pretty blurry, right?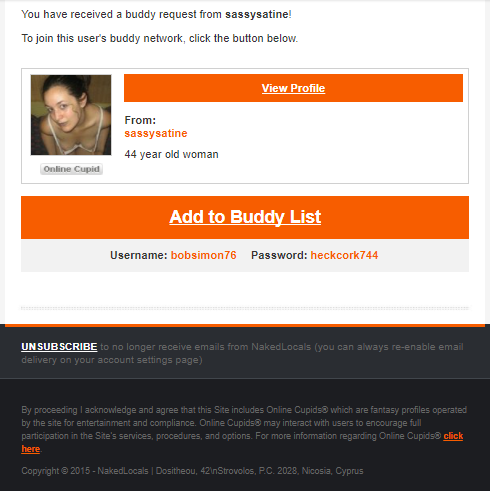 You will pay extra interest for overdue payments.
It gets me all the time how come these fraudulent services think of charging interest, that they are already so well covered that there is no chance that a payment slips through their system. As a matter of fact, you are in any case overpaying the services, and now you still have to think of new costs:

However, the scam does not stop there since:
You get a false 3-month guarantee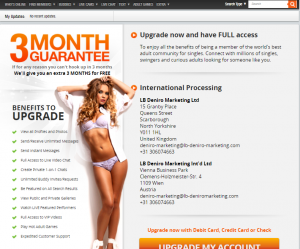 I know – it looks totally legit, right?
That is only if you haven't looked over the Satisfaction Policy which lists a series of criteria you need to fulfill in order to qualify for the "free" guarantee. Wow, just look at the list below! These fraudsters have no amount of decency about the way they do business. Let's say that a few of the requirements that are technical in nature sound okay, but what about those that do not depend on you – such as chatting with at least five people, and have not met with the person off-line – how would you know that? Good luck with fulfilling these conditions: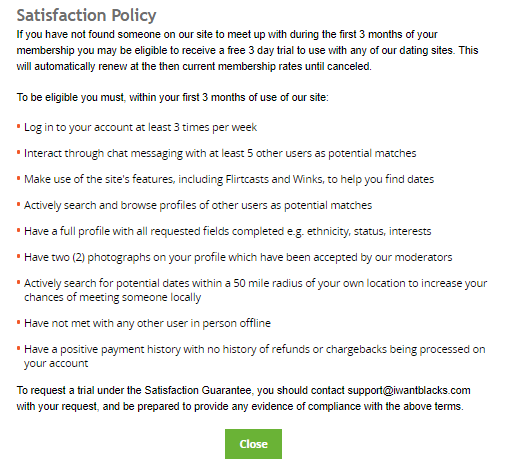 Price Tag
$2.95 for the trial subscription
$24.95 for 30-day subscription
$69.95 for 90-day subscription
The above options are basic. If you don't have your eyes open, you won't notice that the credit card payment screen is accompanied with this preordered subscriptions which allow for new charges on your card and are connected with services on partner sites. It is obvious that NakedLocals.com has no limits to the dirty tricks they pull off to their customers.

At the end, I would like to mention that members who opt out from the upgrade get a chance for a 30% discount just before sign-off. This is one last straw NakedLocals.com is trying to use to hook you to become a member.
Busted or Trusted
These tricky methods are some of the worse I have noticed lately – NakedLocals.com goes way beyond the classic methods, and invents new ways to get dollars off of your bank account. Extra fees, side subscriptions,  last-chance discounts, false guarantees – you name it, you got it on NakedLocals.com.
I would try to find local singles for casual sex on some straightforward application. This place was so complicated, that I am worried that even I didn't manage to find all nasty rip-off techniques applied. However, the red light is on and I am off to greener pastures!