This French site was easy to debunk because it follows a similar pattern that we already know. We don't think that this is the best place for finding casual dates, even if the ladies are in your area because you are French. Sometimes foreign dating websites produce positive results but this one didn't. It was not only illegitimate but also proved to be the least efficient service that we have encountered recently. Meetic.fr is no good.
Why is Meetic.fr a Fraudulent Dating Service
If you are hoping to find hot one night stands on Meetic.fr, you will be disappointed. Unfortunately, you'll have no success here. If you follow the way we tested this site, you will confirm for yourself that the road to great casual sex with French ladies is not possible on this platform
We used the typical tests that we use on all other dating sites to see how Meetic.fr works. Normally, we got the help of Google Translate because our French is not that good. So, apart from checking the features and the regulations, we see how successful is the process of sending emails to the women, whether they reply back, and if they are at all real. Somehow, we weren't convinced that this is the best site for any of these aspects.
Meetic.fr Uses Fake Bots Called Virtual Coaches
Mails resulted in back and forth conversations that resemble very much to fake and automated messages. Just check this picture below of the virtual coach. She doesn't even wait for you to fill out your complete profile. That French chick Lara is in your face at the moment you start browsing the website.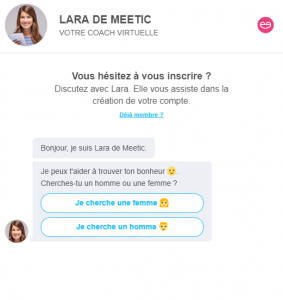 Meetic.fr makes no effort to persuade you in the opposite. Out of 100 emails, 90 percent are sent by fake profiles or by these virtual coaches to cajole you into chatting up with them or paying more for premium subscriptions.
Several Subscription Categories
In fact, Meetic.fr works with subscription categories, which means that they are trying to sell you extra services that don't have real value. Once you try to arrange a date, the girls get lost and they are nowhere to be found later. If you follow the thread of messages with one of the girls and compare it to the others, you'll notice a pattern in the behaviors. This element confirms that we are dealing with a scam.
The site warns against scammers but does nothing to get rid of them. If you want to 86 all scammers, the best way is to take a U-turn and forget about Meetic.fr altogether.
Price Tag
$15.95 for a one-month membership
$29.95 for a three-month membership
$59.95 for a six-month membership
Busted or Trusted?
There is not one valid reason to recommend using Meetic.fr. We couldn't find it and we don't recommend you start testing your own skills, The thing you are looking for is not here. If you are hoping to meet hot French ladies, you will be meeting with failure. No hot French kisses and more on Meetic.fr!