Having the chance to send instant messages and find someone to get laid now sounds awesome. In fact, that is the number one requirement for people who are looking for dating options online. The advantages of adult dating are fast hookups and all-time availability. And, of course – a huge number of potential dates. So, I guess joining Instasext.com is an amazing move, right? Only in the world of expectations, and this assumption is investigated here at Instasext.com, and trust us – it doesn't match the reality.
Authenticity
I am not even sure it is an option to talk about authenticity on Instasext.com We have seen this scam so many times before that words get lost. However, if this is your first time, you will find a use of the explanation of the scam with fabricated profiles, how the process goes, what is the trick with the credit card pre-authorization and the way they charge you over a hundred dollars for one month right from the start. So, the reality is pretty grim with Instasext.com – let's see how:
Why is Instasext.com an Online Dating Scam
You sell your privacy via your data to Instasext.com.
Not only will you give all your details to the company but you must pay for the expenses when they contact you via various communication channels. If you want to know what you agree on, check out this quote from the Terms on the site Instasext.com:
"Specifically you agree and acknowledge that your profile and related information and content may be utilized and displayed on other sites which are owned by related companies or authorized services providers ("Network websites"). You also agree that Instasext and related companies and authorized services providers may contact you through information manifested through the Website and Services via email, SMS, or otherwise to communicate with you regarding the Website and Service or to advertise to you goods and services or to send and receive communications from other Service members and Website users . You are fully responsible for all costs associated with the above communications such as for example the costs of SMS text messages".
You are "entertained" and "monitored" by Love Stars.
The fake women have two main tasks – one of the issues they handle is getting in touch with users with all types of messaging – IMs, emails and SMS, they charge you for that, and follow up with the second issue they handle is monitoring user activity. The final goal in both cases is to get you to buy a deal. They start with annoying messages just as you join and you can't go on to return the chat unless you upgrade:

You bear all responsibility for the possible side costs on Instasext.com.
Apart from the communication channels, you will also pay for the extra costs related to the processing of your fee. So, a little warning about the final cost of the service – it may not be what you expect it to be from the site information. Here is an excerpt so that you can assess what else can be included:
 "For your convenience, the costs and duration of your membership are supplied to you on our registration page on signup. You are responsible for all costs associated with your use of your selected payment method including, for example, exchange rates, transaction fees, interest, and other fees charged by your credit/debit card companies and banks.:
Your card is pre-authorized.
This is stated in the Terms and Conditions of Instasext.com, so that they guard against any responsibility that may incur on your credit card statement:
"Credit card users may be subject to a preauthorization. The pre-authorization is not a charge to the credit card. However, the then applicable monthly subscription rate may be reserved against the Member's available credit card limit."
You must pay to read messages – no FREE membership!
Just as I registered I started receiving messages from potential "hookups" (I am not sure even if they were genuine because you can't see if they are a real person or a Love Star) but couldn't reply to any of their messages: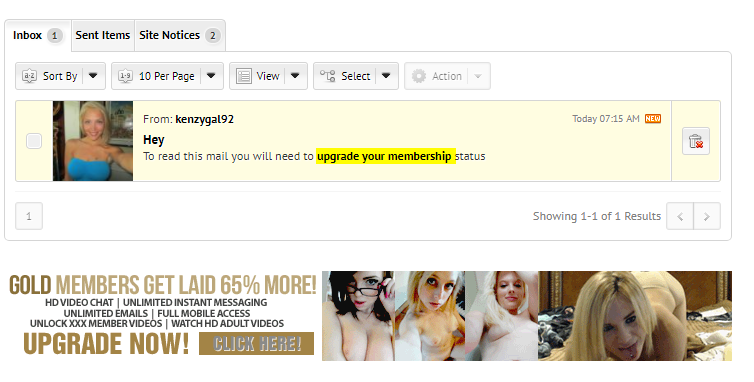 Commercial messaging policy can be changed at any moment without your consent.
They say that you can opt out from receiving commercial messages but then they say that they can change the policy at their convenience. This looks just like another way to pull the plug of the contract guarantees and charge you with anything they want, anytime they want:

Price Tag
This is the screen prompt you get to see when you register, so nothing is for free:

But, I would be more careful about the extra offers which are included in the package with almost invisible letters at the bottom of the screen. Skip the content too quickly and you will be roasted for 100:
Upgrades for the VIP Membership:
Access to mobile + Featured Profile: Two-Day trial for $1.96, renewing for $39.61 a month until cancellation
Access to Video Erotic: Three-Week membership renewing for $28.87 a month, until cancellation
Busted or Trusted?
There is no way we would recommend joining or trying your luck on Instasext.com. there are plenty of reasons to stay away from this fake service, and they all come down to the commercial nature of the service designed to make you pay for basic and extra offers. There is no end to the scam at Instasext.com, and the gap between expectations and reality is huge!