If you want to annoy someone, just ask them over and over again if they are gonna bang that hot girl they have an eye on. If you want to save someone from the embarrassment of adult dating scams, just tell them to stay as far as possible from the fake hookup site with the same name as the annoying pestering phrase. This is one scam too much no one would like to see happen to them.
GonnaBang.com In Question – My Full Review
Why, you think? Everything about GonnaBang.com seems so normal. Not only normal but it also looks fruitful and full of hooking up potential. Well, is this the first time you are meeting with marketing tricks? As we are sure that it will not be that last, too, make sure to have that in mind. Especially in terms of bogus adult personals. Unfortunately, as it is the situation on wrongful hookup sites, you not only risk your money for a poor product, but also your safety. So, don't fall for the ridiculous adult movies and special premium memberships, when all you are getting is fake content.
Why is GonnaBang.com a Deceptive Dating Site
Real hookup dates are not possible on GonnaBang.com. They will tell you that from the very beginning. This hookup site is primarily designed for sexy flirting. Have a look at this quote:
But we do not guarantee that you will ever meet, chat, converse, or flirt with, or exchange any information with any other real person, or any other real person looking for a genuine relationship.
GonnaBang.com Uses Bogus Profiles to "Entertain" You
Do you know what this entertainment is all about? GonnaBang.com posts pictures of false women, creates profiles populating the member area and then cajoling you to purchase one of the paid deals. They have a weird way of saying that in the site documents. Almost like rubbing it in your face – check out the innocent joke provision below:
We aim to entertain and amuse you – and in order to enhance your enjoyment of the time you spend with us, we will employ technical means to engage you in the simulation of flirting with and discovering other attractive people. If we do it well, you may never be able to tell that we are doing it or know when it happens.
You Won't Be Able to Find Your Way Around Premium and Free Packages
Virtual women are not the only problem at GonnaBang.com. You will have additional troubles with the convoluted Premium rates and the length of the chosen package: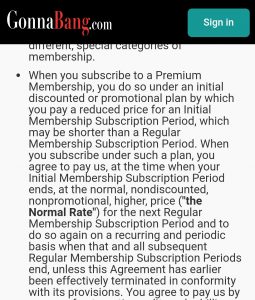 Automatic Payment Renewal and Extra Fees
Finding your way through the maze of complex memberships is one side of the coin. Did you notice that GonnaBang.com bears no accountability for any hidden charges, extra costs or administration fees which may occur during the payment transaction? They are all on you!

You agree to pay us by means of automatic credit card rebilling on a recurring, periodic basis, at the then-effective Normal Rate for your category of Premium Membership then-published on our Upgrade Page with respect to a regular Membership Subscription Period recurring at the end of an Initial Membership Subscription Period.
Price Tag
$29.95 for a 1-month subscription

$59.95 for a 3-month subscription

$119.95 for a 12-month subscription.
Busted or Trusted?
Gonna Bang? Hardly. Tell it like it is people! Don't pull ignorant users by the nose presenting one story on the front page and totally different in the member area. Some no-use added features will not do the trick. Please be decent enough to explain that you are using computer software to nail this adult dating fraud down!