The only thing that will be in a rush on this fake dating site is you on your way out. Unfortunately, BootyRush.com is not at all what it is claiming to be. This false sex dating site is only working with a promotion for upgraded services that are put under your nose whenever you try to send a message, chat or flirt with one of the profiles. And the upgrades are expensive, so you'd better watch out what you are clicking on BootyRush.com!
Authenticity
At first sight, the site seems rich with features, although it does not provide anything special. Keep in mind what we explain in the introduction – BootyRush.com is not a free adult dating site. In fact, they do rip-off scams as their specialty. Once you throw a look on the other side, the upgrade screen will rear ugly head to prompt you to follow its links once again. In the end, it will happen that you just do the endless clicking to get rid of that annoying screen prompt, instead of getting laid with successful booty calls.
Why is BootyRush.com Just a Casual Sex Dating Deceit
The full scam around BootyRush.com revolves around the way they charge their subscriptions. They are unclear, confusing, repetitive and with additional costs. Let's find out why and how.
The Membership is Auto-Renewed But Discounts Are Limited
You will purchase your subscription on BootyRush.com in a bulk. This means that you will get either one month, three months or six months at one go. Or, alternatively, you may find a trial offer. The problem is that subscriptions on this hookup site come in bulks, so when you get the discount on the first bulk amount, and later lose it, you will be required to pay more than what you've bargained for with the automatic renewal.

For example, this is one of the pestering screens that keeps pricking in your eyes as you go along and try to use the Chat features, the Flirt features or the simple IM inbox. By the way, did you notice that the box for the extra VIP offer is already checked? This means only one thing – you need to reevaluate the fees on this fraudulent hookup site!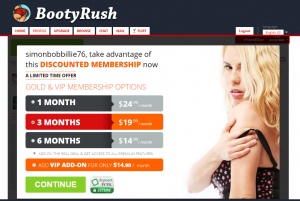 You Are Unable to Send Messages Unless You Upgrade
This is not a special news for Adult Dating Patrol. We have a feeling that it will not be news for you, as well, especially if you tried using the multiple features and ended nowhere. You can see only a glimpse of a girl's profile before this is again in your face. The site visit will turn into an endless cycle of trying to use anything and getting back right at the start. The options are just short-time teasers.

Always Compare the Discounted Rates With the Real Rates
Going back at the beginning, these are the so-called rates presented on the screen before you are taken to submitting your credit card information. That VIP add-on for only $14.90 a month accumulates to over 90 dollars for the full terms and it will turn out even more expensive than the basic fee: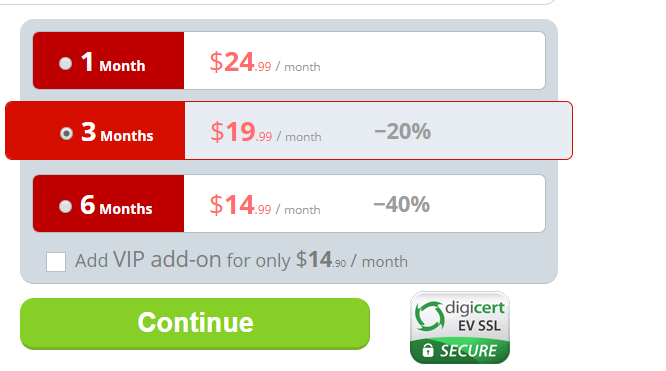 Price Tag
$3.96 for a 3-day trial renewing at $39.95 per month
$39.99 for a one-month subscription.
$89.97 for a 3-month subscription.
$149.94 for a 6-month subscription.
Busted or Trusted?
Let's wrap it up, simple and quick – BootyRush.com is nowhere near a pure app. It's a classic rip-off that will play you out with all those similar red boxes and perplexing subscription fees. Many users have already uncovered this fake hookup app and are claiming to have saved themselves, but not only when it is too late. Don't be that person. Look for verified adult dating sites while you are still carefree and loaded.