The workings of BBPeopleMeet.com are immediately obvious to those who read documents on the site. They state that they use test profiles and that they sell virtual items that are non-refundable. Not a good sign right from the start, but let's see what else is there on this casual sex scam service.
Authenticity
It's all good and nice to make a special platform for BB women and men and help them feel welcome. Things turn awry when they discover that the site is serviced by test profiles and that they need to keep their own security. What can they do when there is no one to guarantee reliable service with real people? Take care of themselves, of course! And what's the best way to be careful on BBPeopleMeet.com then by staying away from it?
Why is BBPeopleMeet.com Just One Big Online Dating Scam
Here are the top four reasons to keep away from BBPeopleMeet.com:
BBPeopleMeet.com Sells Virtual Items
You need to pay real money to get virtual items: How convenient! BBPeopleMeet.com has a lengthy paragraph in the T&C, describing their offerings for the virtual items. When you get to the end of it you will be too tired to notice that the items are not refundable and that you need to use them by the end of your subscription or you'll lose them.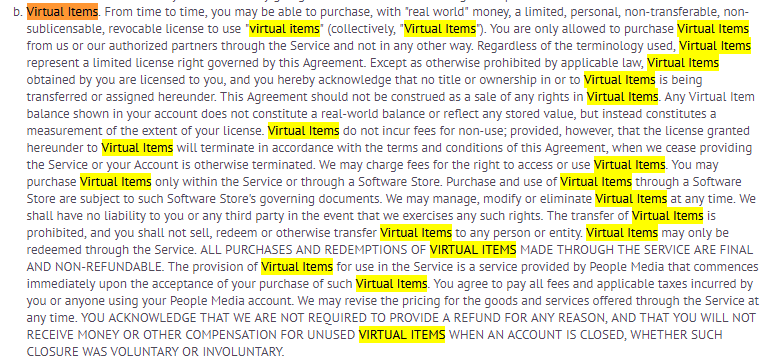 Your Security is Your Responsibility
There is no special measure or a general process for keeping you safe on BBPeopleMeet.com. The site doesn't invest anything in the site security. It warns you against fraudulent users at the beginning of the Terms and Conditions but as you can notice a bit down in the same document, they're creating test profiles which means the main security is jeopardized by the site itself.

In-App Purchases Create Extra Risks
The fees that are described in the Price Tag section below are not the only ones. If you decide to use this dating platform in the App Store or on Google Play you need to be careful of extra costs related to in-app purchases in the hookup apps.

BBPeopleMeet.com Uses Test Profiles
So, here is the truth about all those women on BBPeopleMeet.com, they are fake profiles created with the purpose to test the site and for entertainment purposes, to engage the users in the process of how the site works. If you expect real people you'd be very surprised to find out that you're dealing with test profiles.

Price Tag
One month for $14.99
Six months for $5.63 per month or $35.76 for the full membership
Six months at $7.00 per month ($42.00 total) with profile highlight and Full Mobile Access
Busted or Trusted?
Don't waste your time on BBPeopleMeet.com – it looks nice and it sounds even nicer but the services are not going to provide the same value that is created by the design and the expectations from the first look. In fact, an in-depth analysis of the site documents revealed that this is a scam with virtual profiles and virtual items. It's up to you to decide whether you want to go for it or keep away. What do you think, what's the smart way to proceed?