Visiting an online dating site is one of the easiest ways to find a date if you want to have an affair – it's quick, it's convenient, and it's discreet. One would almost think that when free memberships are on offer, you are in sex dreamland – no one can catch you and no one can get hurt. AffairAlert.com promises free access and on top of everything, one free month when you have no success with the Gold membership. But, hang on a minute – it's not that simple – when your wife notices your monthly statement, you may get into way more problems than just the financial ones.
Authenticity
"AffairAlert.com is not just another dating site." – a promotional line on the homepage says. That is right – it is not. AffairAlert.com is just another adult dating scam with the scammy strategy seen on this review-meter so many times before that we somehow wonder if people will ever get smart. In the end, the same fraud works on so many people because it gets disguised in several different outfits, usually involving virtual profiles (such as those here called online cuties) and credit card overcharging. Let's take a look at how AffairAlert.com specifically handles the scam system.
Why is AffairAlert.com a Fraudulent Dating Site
AffairAlert.com will make you stay on the site by using fabricated profiles called Online Cuties.
The virtual profiles are created with a software with the only purpose of keeping you stay on the site for longer impersonating real girls and alluding to a possibility for a real date: This is a quote fork the Terms and Conditions document which actually acknowledges the use of these fake profiles: "You comprehend, acknowledge, and agree that the interactions, profile information, and content utilized by Fantasy Cuties profiles do not originate from any actual Site member, but are present for entertainment, informational and Site monitoring purposes only. Any similarity between Fantasy Cuties profile information or interactions to any real person is purely coincidental and fictitious. Staff of Site or third party contractors hired by the Site could operate multiple Fantasy Cutie profiles and associated communications features."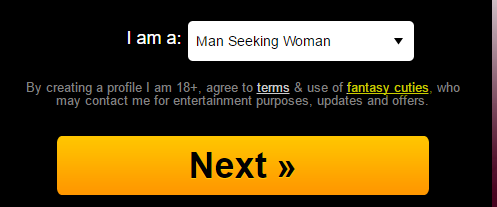 The site utilizes a specialized instant messaging program.
The site says that it does not charge tokens to use the IM program, but you still have to buy them from somewhere. Regardless of whether you get them from the site or from an associated third party, it is still an extra charge needed for this communication channel: "The Site provides an Instant Messaging service, providing Members the optional ability to communicate with other Members or Fantasy Cuties via on-site Instant Messaging. Members purchase Tokens to use the Instant Messaging Program service. (PLEASE NOTE: Company does not charge tokens for Members to receive messages.)"

You must approve the site for unlimited credit card charges or liability damage in an amount of $2,500.
Regardless of where the charges come from or if something happens to the card, it is you who are responsible for any incurring charges. In a situation when there is no special security tool you may just imagine what can happen to your card if someone hacks it, and there is plenty of potential for that on fraudulent dating sites. Here is an excerpt from the site documents: "You hereby further authorize Company or its payment processing agent to charge your credit card (or other approved facility) for any and all purchases of products or services made by you through the Service. You agree not to report as lost or stolen any credit card which you have used in conjunction with such payment to your issuing bank or to the Company or its payment agent for goods or services which you do not have good reason to believe is, in fact, lost or stolen. You further agree not to report as unauthorized any charge for goods or services (including subscriptions) which you have, in fact, ordered from the Company. You hereby agree that any such false reporting of a lost or stolen credit card or of unauthorized charges cause severe business and financial harm to Company and shall render you liable to the Company for liquidated damages in the amount of $2,500.00…"

Almost all Google reviews are of poor quality.
Picture proofs say thousand more truths than plain words and when more people say the same thing about one site, that must be the truth. While for many dating services the opinions are shared, that is not the case for AffairAlert.com – check out for yourself!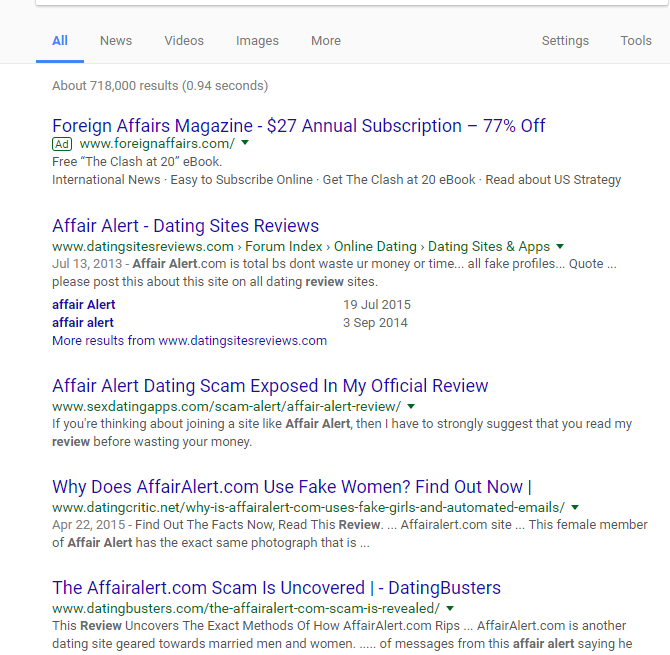 AffairAlert.com does not control external links.
You must be very careful when you visit or click on third-party vendor links because you may never know what are the policies associated with them – the original site absolves any responsibility connected with the dealing of these side service providers:

Price Tag
$8.90 for a 3-day trial period

$29.95 for a one-month subscription

$49.95 for a 2-month subscription

$69.90 for a 3-month subscription
Busted or Trusted
After reading all of the above, we don't think that you will need additional evidence or persuasion about the dishonest tools intended to sell services. If you expect affairs, the best you can get on AffairAlert.com are alerts. And we are not talking about the type of alerts that are notifications from potential matches – more about the unpleasant kind of red alerts which light up when something is wrong.